7 LIES I TOLD MYSELF AT THE START OF QUARANTINE!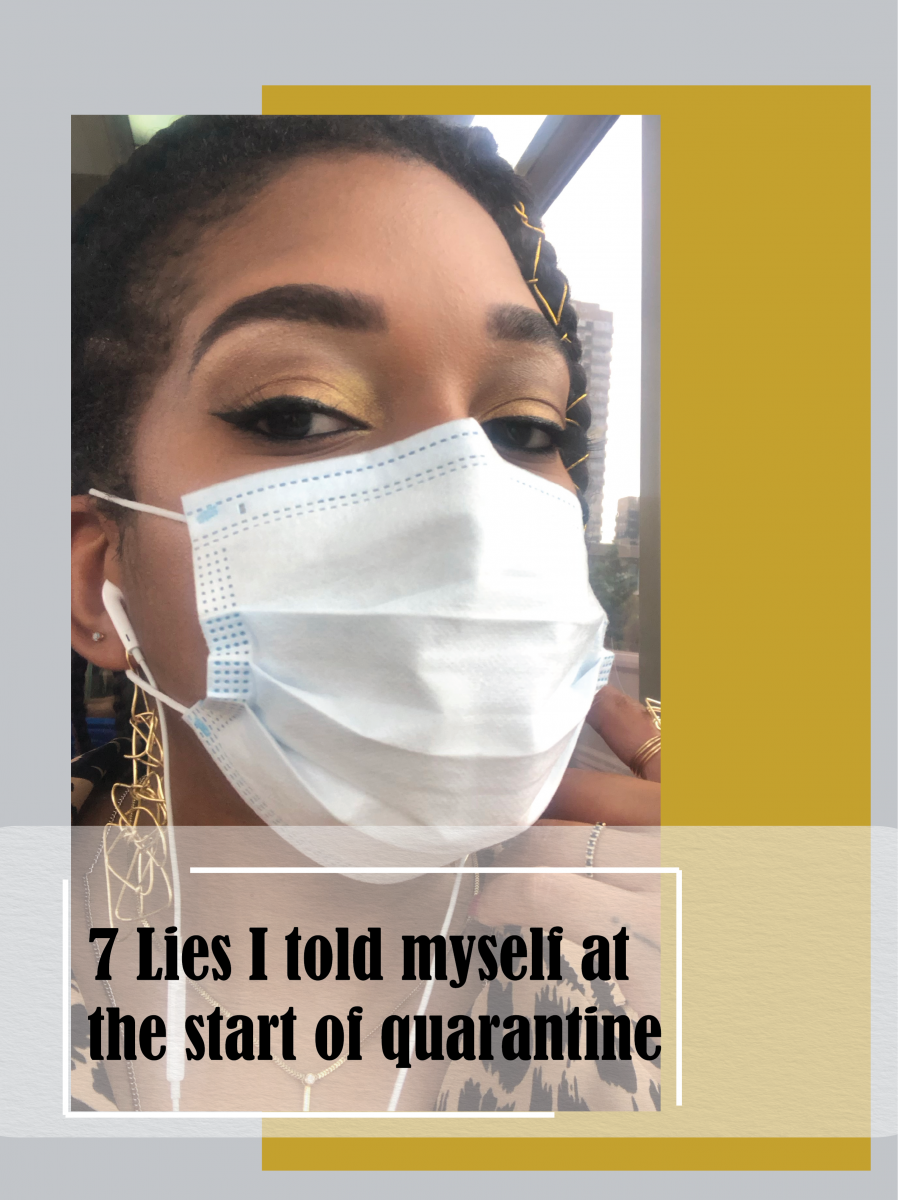 If you're anything like me, you thought the lock down would have been a perfect time for some much needed rest in your busy life. A reset button of some sort; I personally thought I would take the time to brush up on old skills, and learn new ones for my own career development. I saw quarantine as a personal challenge in which I would tackle my 'to-do' list and even explore areas I've always wanted to tackle but didn't have the time to do with my busy schedule. Such as ride a bike- yes, I admit, I can't ride a bike! And before you ask me; full disclosure I didn't fool myself about accomplishing THAT before the end of quarantine.
So here's my top 7 'to-do' list which I have to admit was a complete fail, I basically tried to convince myself for 3-4 months to complete these items, some of which I had not even started. I am not ashamed to say I have been beaten by quarantine!
1. Become a semi expert makeup artist and perfect that beat!

Most who know me know how much I love makeup! To the point where I am not only an avid buyer but I love testing new products from some of my favourite brands. If you asked me, I definitely have preferences based on trial and error and can recommend a brand or two. So it was only natural for this to be at the top of my list! Plus my new housemate is a wholeeee makeup artist, so of course I will be perfecting my beat with a professional for help right?! WRONG! Over quarantine I learnt not only do I not want to beat my face, who is wasting makeup to stay indoors?!
2. Start a vlog about baking and cooking new meals during lock down.
This was actually my grand idea especially as I love to cook and experiment in the kitchen, I thought, OMG why am I not vlogging about this? With all the time in the world, why not start now, right? I soon figured out – I am FED UP of cooking! 3 meals daily is too much for one person! Furthermore who even likes the taste their own cooking anymore?! Deliveroo was soon my go to app, further to this the UK introduced 'Eat Out To Help Out' just at the end of quarantine and I couldn't wait to eat someone else's cooking! However…I did bake a cake though! So I'm going to go ahead and give myself and half point for this, I think I can tick this one off my list.
3. Keep up momentum and exercise daily
As always, new year new fitness regime was activated at the beginning of 2020! And I was getting into a great routine too! 6am workouts first thing in the morning, kickstarting my metabolism and I wanted to maintain that zest! But.. this little white lie had to be followed by lie #2.. although all my intentions were pure and I went as far as to get myself a kettle bell weight, I even ran 3 times OUTDOORS.. and I did some squats but then… (exhales) I was over it – I did buy some protein though (key tip: that's one less meal to cook a day) BUT once I started eating Wotsits accompanied by a glass wine or two for dinner the effort needed for exercise was not there! Snacking is now my past time – I literally budget this into my food bill.
4. Self-care Sundays including yoga and meditation
Followed on form my "exercise routine" was the need for self-care Sundays just like Issa and Molly in the Emmy nominated Insecure.. (If you don't know, well now you know, get into it!) First things first, obviously I bought a yoga mat, and subscribed to a YouTube channel for yoga and I set an alarm to meditate… I think that's great progress in achieving the goal, all sincere efforts were in place, and all the effort to follow through was there… Technically, my meditation alarm goes off every day and I'm still contemplating unrolling the yoga mat …In fact, I'll come back to you on this!
5. Search YouTube and watch hair tutorials, perfect new hairstyles
This is even laughable to me now that I am typing on this. ME! Who did the big chop not for any radical self-gratifying moment of ultimate #blackgirlmagic but rather due to laziness and thinking natural hair would be easier to maintain (this in itself was a lie, I might even have to follow this up with an alternative blog). So who was I to believe I would be learning hair techniques on YouTube!?… I do NOT enjoy washing my hair even with all the time in the world, wash day is still a struggle and something I have to schedule and dedicate a day to. Needless to say I am over it and am still avoiding it! In fact the first chance I got as the salons opened I braided my hair to avoid it.. (yeah I hate it here too!) I didn't stand a chance with this one!
6. Read more books
So this sounds simple enough right? Plus I have all the time in the world to pick up on my long list of books that I have on my bookshelf waiting to be read. I used to be an avid reader and enjoy a great book. In fact I love reading! Currently I want to give myself a ½ point on this one as I've attempted to read one book while sun bathing on my terrace pretending to be on holiday and in total during this time in doors I've actually started at least 3-4 books in quarantine… that's a start right? I am bound to finish at least one of them so folks- hold me accountable on this point!
7. Tackling my Netflix watch list
Well, this seemed like it was going to be the easiest one to tackle on my list. What's better than snacking, Netflix-ing and chill-ing and by all means how easy would it have been to get through my watch list while doing nothing at home right? Boy was I wrong…Between the new Netflix trending content (#TigerKing) and my new subscription of Disney+ I am now walking through nostalgia lane and needless to say my watchlist is still watching me! But I have most definitely relived my childhood on Disney classics and reruns of The Real Housewives on Netflix. I know most of you have watched some CLASSICS over quarantine and reminisced about the good old days when we were kids and just didn't have to adult!
I will say there have been some benefits to quarantine for me it got me to realign my goals and even clear my wardrobe/ space of unnecessary clutter. I became more focused on establishing my personal brand separate to my professional career and make a true commitment to get my voice out there through freelancing which has always been one of my favourite things as I get to create what I love and am passionate about.
In conclusion, when it comes to adulting, who knew in 2020 this new decade that we were all excited about our greatest struggle would be what's the most reasonable hour to take a shower and brush my teeth today? If I don't put on my zoom video that means I also don't have to comb my hair and they wouldn't see me in the same comfort hoodie 3 days in a row. To my friends with kids, you folks aright? And by chance how are y'all getting them to keep their routine? TEACH ME! Cause I too need a timetable and structure for the day! As we approach the end of (or for some the extension of) quarantine I pray that we all figure out how to achieve the best work/ life/ indoor balance. As for myself (remember this is a judgement free zone) I know one thing I've excelled at is becoming what I like to call a wine connoisseur during this time- but I think it was safe to say this was always a possibility if you know me.
Until next time, stay safe everyone!